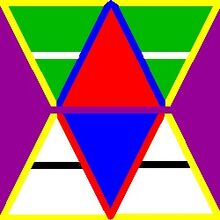 Hi. My name is Ethan Tyler Reilly and I am trying to create a religion based off of the philosophy of extropy. It is called Exaltism. I created the Guide on Religion Creation page to help people brainstorm ideas and concepts for their faiths. I've also had a hand on the creation of the List of religions that the Wikia administrator later sanctioned.
My favorite pages
I have made multiple pages regarding NRMs I'm interested in. Exaltism is my own philosophy, Right Reason is my friend's religion, and Terasem is a NRM I tried to get into. I also made a page for the newly-formed transhumanist NRM, the Turing Church. Links:
Also, I've had a heavy influence on the Washingtonism page.
Community content is available under
CC-BY-SA
unless otherwise noted.